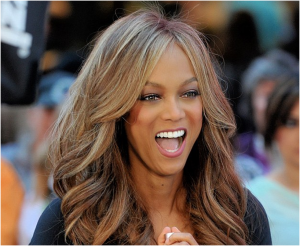 Tyra Banks is no stranger to the beauty business.  The supermodel has taken the next natural step in her career and has officially launched her own beauty line, appropriately named TYRA Beauty.
The 40-year-old television personality and former model appeared on Good Morning America to promote the cosmetics line, which she says 'has been years in the making.'
Tyra looked amazing for the live appearance wearing a gray knee-length pencil skirt that accentuated her famous curves.  She donned highlighted auburn locks that cascaded down into loose curls and her makeup was flawless.
The former Victoria's Secret Angel, who is famed for establishing the term 'smize', meaning to smile with your eyes, includes a line in her cosmetics brand made specifically for eyes under the phrase's name
'I don't wake up with naturally sculpted cheekbones — I paint them on! I believe makeup is the great beauty equalizer.'
Other products include TYover, a variety of 'in-a-stick' variations of concealer, highlight and eyeshadow, as well as  It Factory, which includes 'suede and juicy lipcolor'.
Her new 12 individual products range in price between $24 and $78.
Tyra has also landed a deal with Disney to launch a new talk show for 2015, tentatively titled" The Fab"
She has 28 million followers online: 'With an extraordinary social media following and legions of fans built over her years on television, Tyra is more relevant than ever', said Lisa Hackner, EVP of Disney.
The pilot episode was filmed in August with Nicole Ritchie and Chrissy Tiegen.
Category: Beauty