Summer is here, ladies! The temperature is rising and there is nothing worse than hair that has lost its body and curl due to heat and humidity.  Just being out in the sun too long, swimming in salt or chlorine water, and/or delayed shampooing can dry out and damage your hair.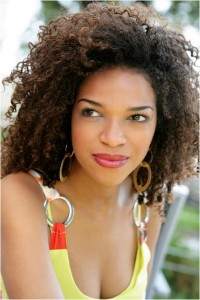 Plan on going to the beach or taking a dip in the pool this summer?  Then be sure to pre-treat your hair with a heavy leave-in conditioner, which contains sunscreen.  After swimming, rinse your hair completely, and as soon as possible.  Reapply your leave-in conditioner and wear a wide brim hat, scarf, wrap style or stay under an umbrella to shade yourself from the sunrays.  After you've had your fun in the sun, give your scalp and hair a deep cleansing shampoo and conditioner.  Always look for products that contain hydrating conditioners so that you are getting maximum moisture for your precious strands.
Protecting your hair in extreme heat is also key.  Hair that is dry, brittle and frizzy isn't cute any day of the year!  So keep your mane moisturized by spraying it with water mixed with essential oils.  As always, make sure you pay attention to your ends.  Seal your ends with an essential oil or even try using Hair Elixir by Carol's Daughter.  You can also make your life simpler by opting to wear easy styles like sexy braids, twists or a curly weave.  Whatever you choose to do this summer, please make sure you have your hair care plan in place so your hair can maintain its hotness too!
Category: Hair