Conditioners are designed to do a variety of things for your hair. Some work only to help provide moisture and can be used as a maintenance product. Other deep penetrating treatments actually penetrate for longer lasting results and should be used only occasionally (once a month) for extremely damaged hair.
Deep-penetrating treatments at times are packaged as single-application packets or vials because a little goes a long way! All actually open the cuticle to let moisture or protein into the cortex, the middle part of hair that gives it strength and retains moisture. Some treatments require heat, i.e., sitting under a dryer, wearing a heating cap or wrapping the head with a wet towel. These are the more intense conditioning treatments.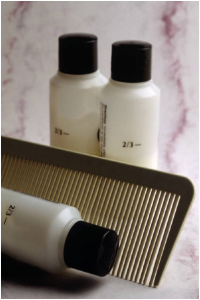 Furthermore, there are two basic types of deep penetrating treatments: moisturizing and protein. Moisturizing treatments put moisture, softness and "bounce" back into hair that may become dried out from over-processing, heat styling or exposure to sun and wind. Protein treatments, also called protein packs, rebuild and strengthen the hair that has lost its elasticity. They rebuild strength in hair that has lost its elasticity. This treatment can be given one week prior to a relaxer or hair color service to help strengthen the hair and reduce breakage. Protein treatments are excellent when used as needed (once a month or bi-weekly is recommended depending on your hair's condition). Be sure not to overuse protein conditioners and always follow-up with a moisture-balanced conditioner immediately following any protein treatment to prevent it from drying out and breaking your hair.
Moisturizing and protecting agents are also attainable with daily conditioners (rinse out or leave-in), but they are not as strong as the deep-penetrating treatments.
Here are some of our top picks for Hair Conditioners:
Moisturizing Conditioners:
Mizani Moisturefuse
Biolage Hydrating and Ultra Hydrating Conditioning Balm
Aubrey Organic Honeysuckle Rose Conditioner
Aubrey Organics White Camellia Conditioner
Salerm 21 Wheat Germ Mask
Miss Key 10 in 1 Conditioner
Queen Helene Cholesterol
Loreal Nature's Therapy Mega Moisture Conditioner
Creme Of Nature Nourishing Conditioner
Nexxus Humectress Ultimate Moisturizing Conditioner
Protein Conditioners
Nioxin Intensive Therapy Weightless Reconstructive Masque (mild to moderate protein)
Nioxin Scalp Therapy #3 for fine chemically enhanced hair (mild to moderate protein)
Organics Hair Mayonnaise Treatment for Damaged Hair (mild protein)
Jason Natural Lavender Strengthening Conditioner (mild protein)
Mills Creek Keratin Conditioner (protein)
Affirm 5 in 1 Reconstructor (mild protein)
Nature's Gate Biotin Strengthening Conditioner (mild protein)
Creme Of Nature Conditioning Reconstructor (mild protein)
Organic Root Stimulator Hair Mayaonnaise (mild protein)
Aubrey Organics GPB Balancing Conditioner (mild protein)
We know there are many more conditioners out there! Share some of your picks and experiences with good (and not so good) conditioners!
Category: Hair