Looking to add the "wow" factor to your look?  Sometimes, simply coloring your hair will do the trick! Switching up your hair color can transform your tresses from dull to dazzling. Highlight, chunk or cover your hair with a shimmer of gold, a touch of chestnut or go all out with a full-blown mane of blazing red. Permanent hair color offers versatility, gives your complexion a new glow and enhances your true personality.
You can really have fun with color, especially if you want a quick change.  Warm tones – shades of reds and gold are popular for the summer.  Some women opt for chunks and face-framing highlights to add depth and texture.  A professional colorist or a beautician specializing in color, can assess the condition of your hair and chose a creative color combination that works best for your complexion and lifestyle.  There are also many at-home semi-permanent products that you can use.  But before you head to the beauty aisle or salon, brush-up on the do's and don'ts of hair color: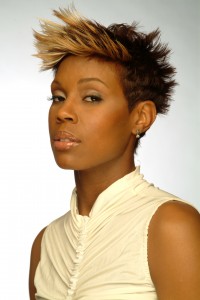 Do Prepare Your Hair for Color: Invest time to get your hair in top condition with products that repair damage and replenish moisture. Color fades quicker when the hair is damaged, allowing the color to be stripped by shampoos.
Don't Relax and Color on the Same Day: Avoid breakage by waiting two weeks after your relaxer to apply color. Permanent color differs from a rinse because it contains peroxide.
Do Follow Manufacturer's Instructions: Don't skip any steps. One tip for uniform color is to apply color to the cold shaft first – furthest from the scalp. Then apply color to hair near the scalp. The warmer area near the scalp processes quicker than the cold area.
Don't Play Ms. Fix-it: If you have an unfortunate hair color disaster, don't attempt to apply more color to correct it. Leave corrective color to the professionals who can adjust color that is too green, blue or red.
Do Deep Condition Diligently: Prevent damage to relaxed and color-treated hair by deep conditioning weekly. Try Revlon Realistic Hair Repair. Also use products that keep hair color from fading like Motions Color Return, containing pigments that restore color intensity.
Don't Go from Black to Blonde in One Step: you can get your hair just two shades lighter with an average color kit. If you want to go blonde, go to a professional colorist to avoid damaging your hair.
Do Complement Your Complexion: Choose a shade that works for your skin tone. Try to stay away from shades that are the exact same color as your skin tone.
Category: Hair